ROSLYN is Checking to See if YOU'RE
Wide Awake Yet.. She Gives YOU one Guess about WHERE She was Rescued at 12 Weeks Old.
Give Up? Yep, She Was Rescued from a Parking Lot in Roslyn.
ROSLYN is now a 3.5 month old beauty with a paintbrush smudged face.
Meet ROSLYN at Last Hope Cat Center in Wantagh but please make sure you're fully awake so you take in all ROSLYN's Sweetness.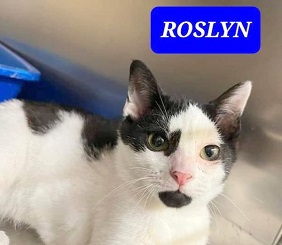 I've found my forever home! Thank you!