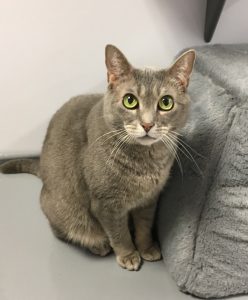 Stunning Scarlet is here to announce her arrival to Last Hope! Scarlet is a 4-year-old grey tabby who made the trip all the way to New York from Georgia for a better chance at being adopted. Scarlet is an easy-going, gentle girl who seems to enjoy the company of other cats. Scarlet's eyes can speak to the deepest parts of your soul. Take one look in those beautiful green eyes and we guarantee your day will be just that much better. Scarlet is currently hanging out at PetSmart in Huntington while we search for the best family for this sweet girl. She deserves that.
So if you are interested in learning more about her, please send us an email to lasthopeadoptions@gmail.com or fill out an application from our website.
I've found my forever home! Thank you!