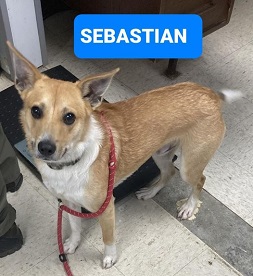 SEBASTIAN Recently ARRIVED at Last Hope on Long Island
Stepping out of his crate after a long rescue transport from an overcrowded Georgia shelter with his paws touching the grass outside Last Hope's front door is a Symbolic Rite of Passage to his New Life filled with Promise-
*
PROMISE of Love & Care from our Many Volunteers
*
PROMISE of Leaving Behind the Threat of Abandonment or Neglect.
*
PROMISE of Lifetime Vet Care
*
PROMISE of a FOREVER HOME.
SEBASTIAN is a 2yr old Terrier mix, with possibly a tad of Jack Russell.. He weighs 28 lbs. and is a little bit shy. He has a Lifetime of PROMISE Ahead of Him Now.
Welcome to LAST HOPE, SEBASTIAN.
On weekends, interested dog adopters can visit Last Hope without an appointment from 10am to 6 pm as long as they are wearing face masks.
I've found my forever home! Thank you!