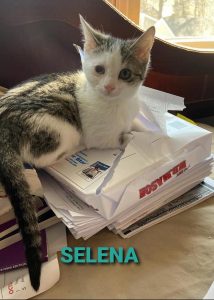 "Life is Full of Surprises "
Kittens- KYLE & his sister SELENA- know this truth because they watch "Wheel of Fortune" in their foster home.
Their foster Mom Carol says they really enjoy the TV show.
KYLE & SELENA are only 3.5 months old and have already seen several surprises life can throw at any of us.
We don't know where they were born in November. But at 9 weeks, they found themselves in a cage at Town of Hempstead Shelter.
Then someone put them in a carrier to go next door to Last Hope. KYLE and SELENA weren't there long because Carol picked them up the same day to take them to her loving foster home where there are 2 pet rabbits..one likes cats..and this fascinating TV on the wall that projects their favorite television program.
Next they left their comfortable home briefly for something they heard called the"Big Snip"…quite a surprising day. Back to foster for recover & Vanna White ..
But since yesterday, they are ready for adoption, so their TV is shut off because KYLE & SELENA are at Petco SYOSSET.
They are each looking for a loving home where they can "buy many a vowel".
To meet KYLE and/SELENA or by appointment at Last Hope in Wantagh, please complete and submit a cat adoption application found on the Last Hope website homepage.
I've found my forever home! Thank you!