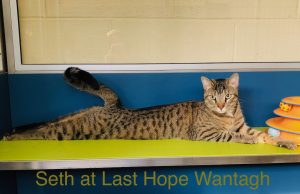 SETH was rescued from Brooklyn ACC (the NYC shelter) when we got a call saying a male tabby was surrendered to them with a microchip tracing to Last Hope.
Although we had cats with chips that may have come from the same lot number, we didn't find a cat with that exact chip number. We called HomeAgain, the microchip company, to verify that chip had been sold to Last Hope since numbers in each box are near each other but not sequential. It was. Later we learned his name was "SEPTIMUS" which spelled that way is Latin for the 7th one born in a family.
We renamed this handsome 3 year old tabby- SETH. At first the jury was out as to whether SETH is truly a cat Last Hope placed .
He is a darling tabby who has a cosmic & convoluted connection to Last Hope.
In turns out his name SEPTIMUS gave us more clues to his true identity and to whether he was ever a Last Hope cat than his unregistered microchip. The unusual name led us to his former owner who said he was named for Septimius Serverus the first black emperor of Rome, and he was adopted as an older kitten from another rescue, not Last Hope.
SETH might be part Savannah Cat and needs a cat-savvy owner who understands the breed. Savannah Cats are quite intelligent, and their smarts can get them into trouble. They can be high energy and love to jump high, climb and even play fetch. Savannah Cats can also be very vocal, so SETH needs someone to respond to his daily conversations. The breed  is very "dog-like."
Our SETH can play fetch, jump at least 8 feet high to retrieve his toy, answers to his name with a Meow and is quite affectionate. Savannah Cats are quite intelligent, and their smarts can get them into trouble.
Read the full details uncovered in the "SEPTIMUS Story" the Massapequa Post "Pets" column link below:
https://www.massapequapost.com/articles/pets-pets-pets-718/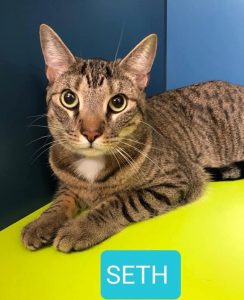 I've found my forever home! Thank you!