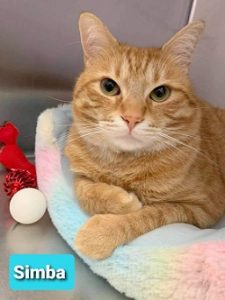 SIMBA is the Little Lion King-
And the quintessential orange tabby.
He is extremely handsome, friendly and playful.
SIMBA is a feline fantastique, a rescue via Georgia shelter transport. He is a big youngster at 1.5 yrs old & would do best in a home where he will have an extremely friendly & playful buddy cat.
The buddy's "handsome criterion" is optional ..SIMBA doesn't care if his BFFF (Best Feline FOREVER Friend) is good looking or plain. . He will love him or her just the same.
To meet SIMBA by appointment at Last Hope in Wantagh, please complete and submit a cat adoption application found on the Last Hope website.
(Fabulous Foto by DeeDee Marconi)
I've found my forever home! Thank you!