SNOW WHITE's Deserves a Disney "Happily Ever After"..

She existed in a Patchogue hoarder house. When she was rescued from there, SNOW WHITE was nursing 6 kittens ..which are now named after most of the 7 Dwarves.
We don't have an exact age on SNOW WHITE, nor do we know how many litters she had before she was rescued…but we surmise she had a tough life.
SNOW WHITE would like to put her past behind her…and look toward a brighter future in a loving home where she will be cherished as an individual feline, rather than a unknown & neglected member of a mob.
Meet SNOW WHITE at Last Hope in Wantagh.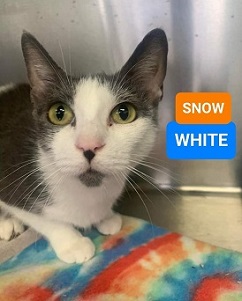 I've found my forever home! Thank you!