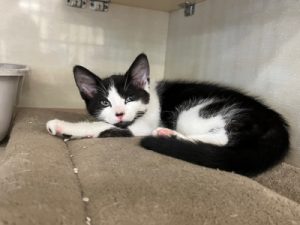 The Canonized Kittens are… Named after Saints
They were born & trapped on church property in Woodbury. The kind parishioners & rectory staff were feeding the cats there but were unaware of the importance of TNR.
…… Nicholas, Ann & Chris were on their own after their Mom died until they were trapped as a team effort by John Debacker & Last Hope volunteer Cathy who became their foster godmother.
Now at 3 months old , only St. Ann one of the Canonized Kittens is still waiting at Petco Syosset where she hopes to be Blessed with a Home. Her saintly brothers were adopted together.
Visit St. Ann at Petco Syosset….or…
If you are interested in learning more about them, please send us an email to lasthopeadoptions@gmail.com or fill out an application from our website.
I've found my forever home! Thank you!