TATE is one of the COOKIE KITTENS at Petco Wantagh, and He's So Sweet
TATE, OREO and MILANO were rescued in Bellmore at 7 weeks old , and lovingly fostered in a Last Hope volunteer' s home.
Now at 3 months old, they are showing off their sweetness at Petco Wantagh.
TATE is a male, solid black cuddle bug.
Take a peek at TATE at Petco Wantagh, and then to meet him by appointment, please complete and submit a cat adoption application found on the Last Hope website homepage.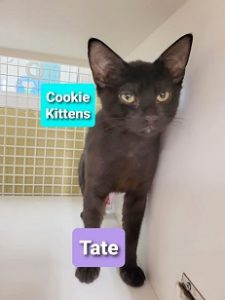 I've found my forever home! Thank you!