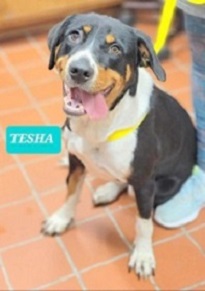 TESHA is Precious. Last Hope Had to Save Her.
TESHA's ride on a Georgia rescue transport ..which is literally saved
her life…and also offered her the opportunity to be made physically whole again so she can enjoy her saved &
improved life to the fullest.
More from Tesha's Georgia sending shelter:
"TESHA" (Greek for survivor) was brought into the shelter as part of a cruelty complaint after someone called animal control to report that they saw their neighbor beating his dog.
When animal control arrived, they found TESHA laying in the backyard, obviously injured.
The caller had recorded the owner beating her. Charges were pressed and TESHA was confiscated from the owner.
Despite the horrendous cruelty that was shown to her, TESHA is absolutely the most loving girl! She is happy and wants nothing more than to be loved.
At the shelter, TESHA was going to be euthanized because she has injury to her back leg.
The Georgia shelter doesn't have the equipment to x-ray and treat her. The shelter vet said it could be something as simple as a dislocated hip, or as serious as a fracture, but it's impossible to say for sure without diagnostic equipment.
She will bear weight on it, but she limps. She will require a visit to the vet. "
This is why LAST HOPE promised to take TESHA. Her sending shelter would not heartworm test her without a shelter commitment to TESHA. Since she was on the euthanasia list, her heartworm status was moot.
TESHA is 1.5 years old & weighs 47 lbs. She resembles a Greater Swiss Mountain Dog but Swissies are not common in Georgia.
Last Hope will embrace TESHA with open arms. We want the abuse she suffered to be past history.
Our vets &, probably, specialists will determine what is needed to make TESHA physically whole so she can live her life to the fullest .
As TESHA limps through the Last Hope doors, her Best Life will BEGIN.
LAST HOPE promises.
I've found my forever home! Thank you!