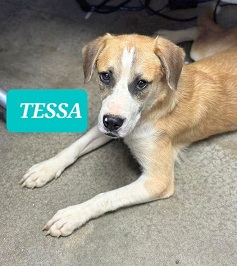 Take a Look at TESSA.
This is a pup arriving at Last Hope from Georgia.
This pretty 1-2 yr old Hound mix  weighs 44 lbs.
Her GA shelter profile: "She doesn't cause any problems in the kennels. Very submissive and housed well with others.
She gets along with bigger and smaller dogs as well. She walks well on a leash."
We are finding her same good behavior at Last Hope!
Come visit me at the Dog Adoption Center.
[contact-form 3 "Dog Adopt"]