TIPPY Canoe & Take Her Too!
This 2 year old Smooth Collie/Heeler from Kentucky has the ingredients of a Family Dog. She is house & crate trained. Good with kids, cats & other dogs.
TIPPY weighs about 35 lbs.(medium size)and thinks she is a lap dog. She loves to play fetch. And is sweet & very loving.
( Oh, and, yes, you are being tested on American History when reading the opening line..)
Do Not Hesitate. TIPPY will be spoken for, if you wait. To meet TIPPY by appointment at Last Hope in Wantagh, please complete and submit a dog adoption application found on the Last Hope website homepage.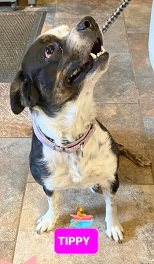 I've found my forever home! Thank you!