Call him- TOM TERRIFIC, or Call him just plain- TOM
Either way, TOM is a sweet pup.
He is a 6 month old Pointer/Beagle- a new arrival at Last Hope from a Kentucky shelter.
TOM tips the scales now at 41 pounds, and he has some more growing to do.
Let TOM do that growing & maturing at YOUR HOUSE. He'll make a wonderful addition to YOUR FAMILY.
It's Sunday. You don't need an appointment to meet TOM at Last Hope in Wantagh today.
However, on weekdays, please complete and submit a dog adoption application found on the Last Hope website homepage.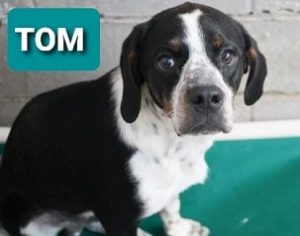 I've found my forever home! Thank you!