Talk to TORTELLINI…
Tell her to Keep on Strutting Over
to YOUR House to Stay.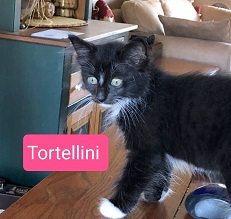 TORTELLINI is a medium long-haired tuxedo with fancy ear tufts & a fancy feline walk.
She is almost 3 months old (born on Flag Day), having been rescued in Brentwood with her Italian cuisine kin as 4.5 week old infants.
She has been in foster care ever since.
Her spay recovery is over so her adoption appeal can begin.
To meet TORTELLINI at Last Hope in Wantagh by appointment, please complete and submit a cat adoption application found on the Last Hope website homepage.
I've found my forever home! Thank you!