TRIP was the last dog chosen for the "trip" one weekend from Kentucky shelters
Lucky TRIP! He made the Trip to Last Hope.
This handsome Beagle fellow is 5 years old, and only weighs 20 pounds. Love in a small Beagly package .
TRIP was quite frightened when he first arrived, and perked up as soon as he saw another dog.
He is likely to gain confidence faster if  placed in a home with another friendly dog who will support and mentor him in the pluses of the GOOD LIFE.
TRIP could become YOURS if you take a short trip to your computer to complete a dog adoption application on the Last Hope website homepage. If approved, you will be invited to Last Hope in Wantagh by appointment to meet him.
Read the T-shirt on the person holding TRIP.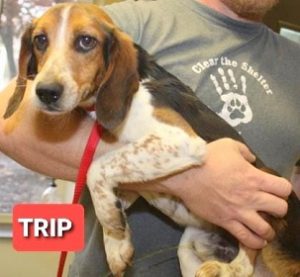 I've found my forever home! Thank you!