TRIXIE…
… has the sad look of Beagle neglect.
This is a look of Southern transport Beagles we've seen many times when the down-trodden dogs reach Last Hope.
Beagles in poor, rural Southern areas are considered possessions rather than pets.
When they are no longer productive as hunting or breeding dogs, they are discarded in cruel ways.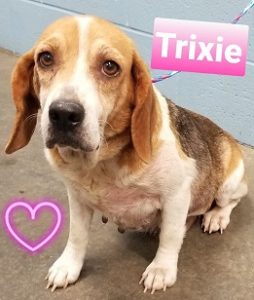 TRIXIE came to Last Hope from Daviess shelter in KY.
You can see she's had puppies- probably multiple litters. She is heartworm positive & will be treated by Last Hope. She will need a Foster to Adopt Home during her heartworm treatment & recovery. TRIXIE also has a skin infection.
Her sad eyes lack the glimmer of hope.
Little does TRIXIE know, at Last Hope our compassionate volunteers will work wonders to brighten the spark in her eyes & to help her attract a FOREVER FAMILY.
It's a good omen, TRIXIE arrived- the first day of summer- when there is more Light than any other day of the year.
By the moment of the Summer Solstice- 5:43pm, the Light in her eyes already began to brighten.
Come visit me at the Dog Adoption Center.
[contact-form 3 "Dog Adopt"]