Tiny URSULA is more black & tan Chihuahua than the Min Pin designation she arrived with from her Georgia shelter.
This peewee lady is about 4-5 years old, and a sweetheart.
She and her supposed Mom CRUELLA are not a bonded pair. In fact, they are happier when separated.
Scoop up little URSULA at Last Hope in Wantagh. LOOK! She is reaching out to YOU!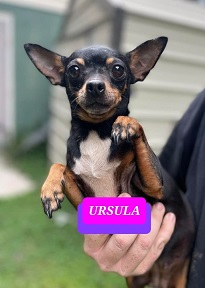 I've found my forever home! Thank you!