VAN the Man Saved His Own Life in the Nick of Time.
In Oct, several volunteers were in a mobile hospital while Dr. Senk was spay/neutering 5 kittens for Last Hope.
A person came in to ask if we had "lost a kitten" which prompted us to look through the windshield and see a tiny tuxedo in the front of the van.
A brief panic ensued while we did a head count because we did bring a tuxedo. .until a trip into the parking lot confirmed the extra kitten was a tinier, gray tuxedo , and not part of our cat crew.
The little guy seemed bewildered as he maneuvered under the cars in the parking lot next to a busy road, & eluded our attempts to lure him closer.
He may have been a local stray, but a dumped kitten seemed more likely, based on how out of sorts he seemed.
Of course, Dr Senk said to trap him so she could spay/neuter the baby.. We did have the trap we brought with 2 kittens & some catfood as bait.
And, of course, he disappeared temporarily when the trap was set…but returned several times, standing outside the van door, looking up with a plaintive "Help Me" expression on his pathetic face…but if we opened the door , he'd vamoooose..
It took about an hour & a half to trap him., and , you may have heard us shout,
"Hooray".
He ( who turned out to be male) was the last kitten Dr. Senk did that long day. The little guy was filthy; he had a painful wound or burn on his side that Dr.Senk cleansed & stitched meticulously. He needed fluids for dehydration, and extra warmth because his body temp was low.
I had pleaded his case to become a Last Hope kitten via serendipity even before we knew how desperate he was.
VAN the Man's name is double entendre to remind us of where we found him. But he also reminds me of his namesake-Van Morrison..
VAN came to us "through the Mystic" and is made of "Tupelo Honey".
He had a long recovery, a bout of URI that prevented lots of petting, and he must have remained in some pain. He began as a scared kitten & accepting of only some people ( also like Van the Man) .He resisted medical attention, purrhaps flashbacks to his traumatic condition upon rescue, but now welcomes petting & then purrs for more.
He needs someone who will go slowly, continue his assurance & socialization.
I believe VAN knew what he was doing when he showed up that surgery day. Give him Time and Patience with the right person, and VAN will continue to show his Tupelo Honey side & his appreciation.
Consider adopting VAN the Man.
You can make Music Together.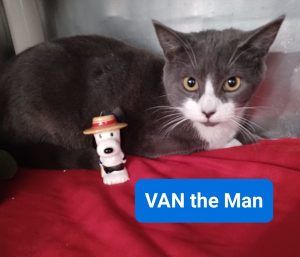 I've found my forever home! Thank you!