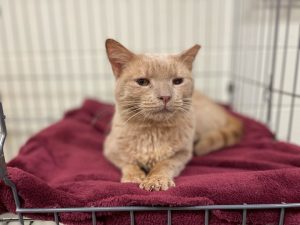 VEGAS Hopes Someone Will Take a Gamble on Him
This handsome, buff-colored fellow is 4 years old and comes from the same Centereach colony of 70+ cats as MARIGOLD & her kittens. This spot had a flash flood recently, and some cats drowned.
VEGAS was trapped by Jenny who realized he was too friendly to return to that spot where he'd have to fend for himself.
It's time this dear boy has a caring owner who gives VEGAS the luxury of the cushy life indoors.
So if you are interested in learning more about Vegas, please send us an email to lasthopeadoptions@gmail.com or fill out an application from our website.
I've found my forever home! Thank you!