Meet VICKI- a new Tabby Lady at Last Hope in Wantagh.
This tabbilicious 2 year old has gorgeous, alluring eyes.
She was found alone in a Farmingdale yard by a good Samaritan.
VICKI purrrrrs contentedly when you pet her.
She deserves a wonderful home so she can keeps that perfect purr going with lots of attention & affection.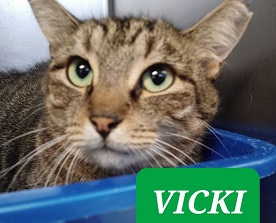 I've found my forever home! Thank you!