1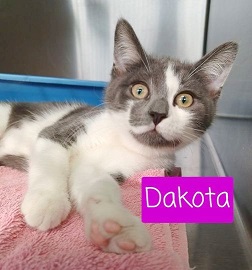 Darling DAKOTA
The Last Hope hotline call said DAKOTA was found all alone on Merrick Road. At the time she was only 3 weeks old…so if this story is true, how did she get there?
She was rushed into foster care.
Her face looks as if it is made up of gray puzzle pieces, so intriguing.
… This pretty girl is 3 months old now, spayed and ready to expand her North & South Dakota horizons.
She wants to LEAP into a loving home.
Your home, did you say? DAKOTA surely hopes so.
To meet DAKOTA by appointment at Last Hope in Wantagh, please complete and submit a cat adoption application found on the Last Hope website homepage.
I've found my forever home! Thank you!