JONAS is WORRIED.
He thinks no one wants him. Our sad sack kitten has reason to feel this way.
JONAS was trapped with his brother NICHOLAS in Sayville last April when both were 9 weeks old.
NICHOLAS went to the Last Hope Public TNR Clinic for his neuter while JONAS was taken to another vet where he was rejected because of an undescended testicle.
JONAS didn't understand the reason why he was turned away; all he knew was that he was rejected.
Meanwhile, NICHOLAS was the only feline after our public clinic to be accepted into the Last Hope Adoption Program. He went straight to our Wantagh Center.
When word got to us that his brother JONAS was turned down at another hospital, the search was on to locate JONAS & put him back with his brother.
Once JONAS was found, everyone was ready for a joyous sibling reunion in Wantagh.
Whoa!…we were wrong . NICHOLAS didn't rejoice. Instead he hissed and swatted his tinier brother  JONAS on Attempt #1 and Attempt #2.
Poor JONAS was rejected again, this time by his own flesh & blood, and put in a cage all by himself.
Weeks ago JONAS heard NICHOLAS had been adopted..and still now he still waits alone in Wantagh to be adopted.
… No one has noticed this sweet 3.5 month fellow named JONAS, so he is on the verge of tears.
To meet JONAS by appointment at Last Hope in Wantagh, please complete and submit a cat adoption application found on the Last Hope website homepage.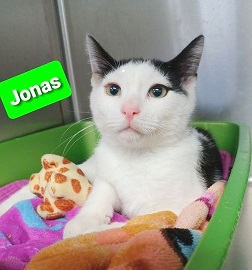 I've found my forever home! Thank you!