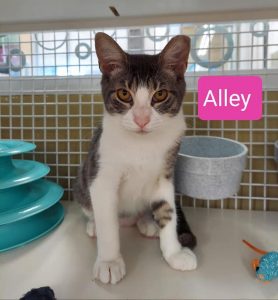 ALLEY is Waiting for YOU at Petco Wantagh
ALLEY is a female tabby terrific & her brother ACE is semi-longhaired with fancy ear tufts.
They are 4.5 months old & belong to the "Bellmore Bunch" – a group of cats/kittens from 3 merging cat colonies that had been fed but not neutered by 3 well-meaning home owners.
Several TNR advocates including Last Hope volunteers are in the midst of a huge trapping effort to pull out adoptable kittens like ALLEY & ACE and to stabilize the cat overpopulation of these Bellmore colonies.
The 2 Petco Wantagh beauties were rescued as older kittens. They love to sit with YOU to be petted, but being in a store enclosure doesn't show off their affection. They are understandably shy at the store.
So to meet ALLEY and/or ACE by appointment , please complete and submit a cat adoption application found on the Last Hope website homepage.
I've found my forever home! Thank you!