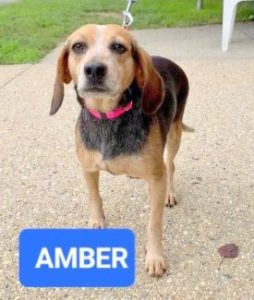 Last Hope takes in many Beagles and we have heard many stories of mistreatment, abandonment and neglect. AMBER's story takes animal cruelty to a new level.
This 3 year old Beagle came to Last Hope because we were asked to help another rescue that was dealing with an Amish puppy miller in Pennsylvania. Supposedly, he was threatening to kill several adult Beagles because he had no use for them anymore.. By "use" we assume he couldn't breed or exploit them anymore to make money. Supposedly, he had already followed through on his threat with one Beagle.
Last Hope took in two of these poor souls-AMBER a 2-3 year old female and BAXTER a 2-3 year old male. They had no documented vetting. BAXTER was adopted within days, but sweet AMBER is more shy and tentative.. She is relaxing but will probably be more comfortable in a home setting with patient owners because it's probable she has never known how wonderful it can be as a pet Beagle with a home and family.
I've found my forever home! Thank you!