*RON would love to Run Around Your House Everyday.*
Tiny RON was born in a Bellmore yard in the spring. RON & his 3 littermates were rescued at 9 weeks old by Ann the home owner who also became their foster Mom.
RON is adorable & only 3 months old, but ready to run around your house, & circle you with his enchanting kitty ways.
Meet RON at Last Hope Cat Center in Wantagh. His bags are packed.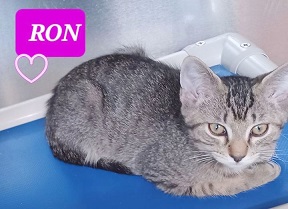 I've found my forever home! Thank you!