ANGELO is One of the "nearly" Identical Puppy Triplets at Last Hope via a Georgia Rescue Transport
ANGELO, CARLO, LUNA were sociable & sweet strays …4 months old…around 15 lbs..DNA make-up still a mystery to be "swabbed". Possibly some Jack Russell Terrier.
Meet the Triplets at Last Hope in Wantagh ..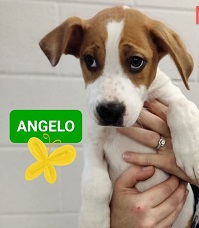 I've found my forever home! Thank you!