DIAMOND – a gorgeous tabbico kitten- turns 4 months old today.
She is a purrfect example of a diamond's 4 Cs:
COLOR- fur a patchwork of warm hues.
CALICO-a tabbico is a special calico
with tabby stripes on her splotches
CHARISMA- filled with love & charm
CUTENESS- a 12 on the scale of 1 to 10
DIAMOND & her siblings were rescued in Westbury at 6 weeks old and then tenderly fostered by Kathy B.
Meet DIAMOND, a precious gem of a kitten, at Last Hope in Wantagh.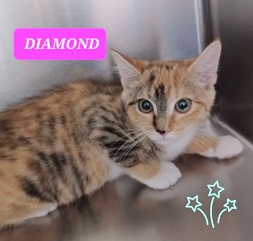 I've found my forever home! Thank you!