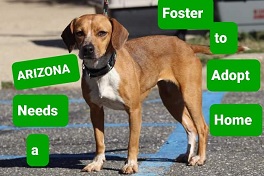 Our Beagle Lady – ARIZONA- has a
Special Request. She is asking for a Foster-to-Adopt Home where she can stay & be calm while she undergoes treatment for heartworm.
We took this sweet girl from a crowded Georgia shelter because we knew she is heartworm positive and we are her "last & only hope ." She wouldn't have received expensive heartworm treatment in Georgia .
A Foster-to-Adopt Home works best because after each injection of immiticide to rid
her body of heartworm, she must be kept calm while the medicine does its magic. Too much activity can cause a pulmonary embolism as the heartworm dissolve.
Then after her treatment when ARIZONA is heartworm free, we hope she has stolen the hearts of her foster folks…and they want to turn her foster home into a FOREVER HOME.
Last Hope pays all veterinary expenses until our heartworm positive dogs are heartworm negative & spay/neutered.
If you would like to learn more about a medical "Foster-to-Adopt " home and to meet ARIZONA, please visit our Dog Adoption Center in Wantagh from 10 am to 7pm , but please wear a face mask.
Come visit me at the Dog Adoption Center.
[contact-form 3 "Dog Adopt"]