It's BATGIRL's Turn to Soar….
…To Soar into a HOME where her Adopting FAMILY will appreciate the wonderful progress she has made overcoming shyness & fear of new situations….and will help her progress even further under their care.
BATGIRL is a brindle Feist/Mountain Cur from Georgia. She is almost 2 yr old and full grown at about 35 lbs.
To meet BATGIRL by appointment at Last Hope in Wantagh, please complete and submit a dog adoption application found on the Last Hope website homepage.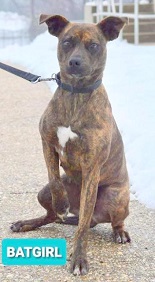 I've found my forever home! Thank you!