Beautiful WILLOW is Almost Ready to be a Pampered Pet
She needs a few more days to recover from yesterday's spay, and then she can be on her way.
Boy, is she overdue for a comfortable life.
WILLOW, now 1.5 yr old, gave birth to 4 kittens under a kayak in Oyster Bay a few months ago.
She & her babies (all adopted now) were rescued when the babies were only a week & a half old. The family did great in Last Hope foster home.
Her kittens were ready for adoption before Mom whose milk was still drying up. Two were longhaired like WILLOW.
WILLOW is incredibly sweet.
You can meet her Wednesday through Sunday from 12:30 to 6pm at Last Hope in Wantagh as long as you are wearing a face mask.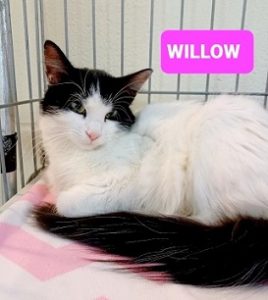 I've found my forever home! Thank you!