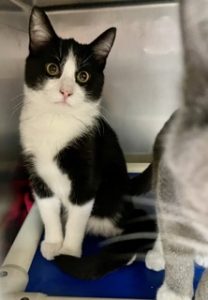 SShh! Don't Tell BELLINI…
But last week there was no breakfast for him or his 6 Liquor-Named littermates because they all went to get snipped! It was well worth it because now they are recovered and the 7 are ready for homes of their own.
One Missed Meal; and a Minor Surgical Procedure ..small sacrifice for a Lifetime of Love & Pampering , especially since the Litter was born in a Bay Shore hoarder house.
Their Mom Chardonnay was rescued too. They will all LOVE INDIVIDUAL ATTENTION.
If you are interested in learning more about her, please send us an email to lasthopeadoptions@gmail.com or fill out an application from our website.
I've found my forever home! Thank you!