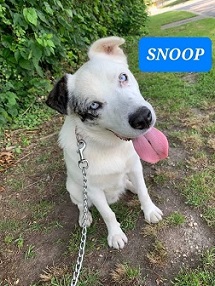 Snap Up SNOOP, an Aussie Athlete

He is a skilled ball fetcher. He can also catch a throw over his head on the fly. Bet he'd have Frisbee dog talents too.
SNOOP is a 50 pound, young Australian Shepherd mix with ice blue eyes from Kentucky.
He has lots of energy & desire to learn. He needs training but should respond well to a seasoned trainer. He can get carried away, and act as if his people do not know his strength.
SNOOP is a good match for an athletic, dog-savvy owner.
He is available at Last Hope in Wantagh.
I've found my forever home! Thank you!