BINGO is about to Hit the Jackpot.
His former owner turned him into a crowded Georgia shelter right before Thanksgiving because "he didn't have time for him".
BINGO, a 1 yr old Basenji look-alike (without the tightly curved tail) walks well on a leash & loves car rides.
Hope he still loves car rides after his 18 hour transport from Georgia.
BINGO is 25 lb and enjoys being picked up & cuddled.
He is a little bit timid about the big change from being in Georgia and now in NY.
Wouldn't it be wonderful if someone who'd like to cuddle BINGO for his lifetime would embrace him soon?
You can meet BINGO at Last Hope in Wantagh as long as you are wearing a face mask.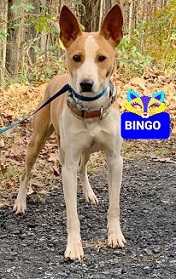 I've found my forever home! Thank you!