CAPTAIN will Captivate YOU just as He Did His Rescuer
CAPTAIN, a big & gorgeous black cat about 2 yr old, kept showing up at the back door of a home in Plainview. He was very friendly but not neutered yet.
The older feral cat fed at this home for years was aghast. The Golden Retrievers in the home were aghast. The lady of the house was so upset that such a lovely cat was hungry & so anxious to come indoors. The lady of the house is a long time rescuer of Golden Retrievers in need, and a good friend to Last Hope.
After a thorough search for an owner, CAPTAIN became a Last Hope cat, was vetted, neutered & is now 100% ready to enter a Loving Home & Stay Forever.
You can meet CAPTAIN at Last Hope in Wantagh without an appointment from Wed thr Sun from 12:30 to 6pm without an appointment as long as you are wearing a face mask .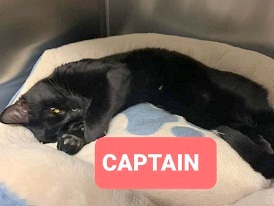 I've found my forever home! Thank you!