Meet BISCUIT- New Beagle Boy on the Block, the Last Hope Block, that is.
BISCUIT, a small 2 year old, is the latest Beagle to arrive on a Georgia rescue transport . He's about to begin his new leash on life.
He hopes to find his FOREVER FAMILY soon.
Come visit BISCUIT at the Last Hope Dog Center in Wantagh any day from 10am to 7 pm.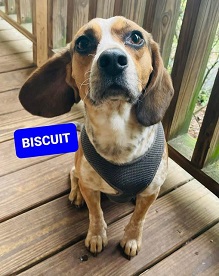 I've found my forever home! Thank you!