LUKE & LEIA: SIBLING REVELRY
Puerto Rico Rescue Duet
LUKE & LEIA are 1 year old siblings who spent time in a Puerto Rico foster home before their flight to the US.
LUKE is a luxurious tabby & white while LEIA is a tantalizing tabby in light tones of orange.
They are hard to resist. And would be a charming & sweet feline team to add to your family.
We would like them to stay together because they've come through so much together.
Meet LUKE & LEIA at Last Hope in Wantagh.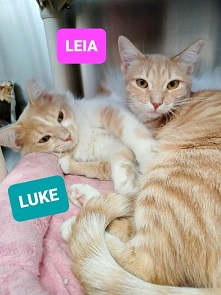 I've found my forever home! Thank you!