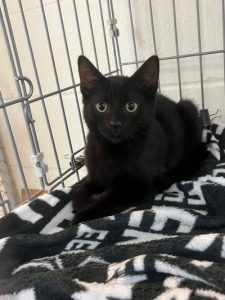 What is Better than Adopting a Cat on Black Cat Appreciation Day?
Well, adopting 2 black cats or kittens- especially a brother & sister like BLINKY & BEBE gives you twice the joy.
BLINKY (boy) & BEBE (girl) were rescued during a TNR effort in Holbrook & then fostered by Jenny L.
The sleek, ebony siblings are 4.5 months old and sweet as can be. Meet them at Last Hope in Wantagh.
If you would consider adopting the duo on their special calendar day (or later), BLINKY & BEBE will show YOU their Appreciation Forever More…
If you are interested in learning more about them, please send us an email to lasthopeadoptions@gmail.com or fill out an application from our website.
I've found my forever home! Thank you!