REX: "Oh, if you look a little bit closer, you can see the tracks of REX's tears."
As Smokey Robinson belts out more of his classic song, REX, a 10 yr old Beagle cries & laments his Homelessness.
REX arrived on a Kentucky rescue transport Saturday with high hopes of finding a family to embrace him. Most of the Kentucky Beaglish pup passengers do have applications already..
But not poor REX. No One Wants Him Yet.
REX reckons he will be alone for a long spell, a very long spell.
Please Help REX find a Home so the Tracks of his Tears Vanish & He Smiles a Beaglish Smile.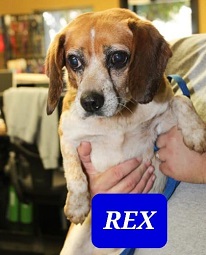 I've found my forever home! Thank you!