Wanna Boogie Down Broadway with BOOGIE?
Well, he's ready for his FOREVER Home.
BOOGIE Beagle is about 3 yr old and has been in foster care during the shutdown with a Last Hope family who have fostered MANY of our dogs.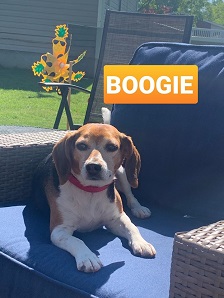 BOOGIE began having seizures several months before the COVID crisis. His seizure medications have been fine-tuned during his time in foster care.
BOOGIE is an active boy, & will do best with a retired person or couple who like to take long walks. BOOGIE settles nicely after a daily 2 mile jaunt..Otherwise, he is still energetic.
He has puppy energy. His Beagle-being will charm you.
To schedule an appointment to meet Boogie, please email Letty at lettycanals@gmail.com a dog adoption application which can be found on the Last Hope website homepage.
I've found my forever home! Thank you!