BRISTOL is a Handsome & Silly Boy!
This orange & white tabby is extra cute with his polydactyl front paws.
He was an orange triplet born in a Wyandanch yard, and rescued by the homeowners who TNRed their Mom & planned to TNR the triplets until the vet saw how friendly the kittens were & called Babylon Shelter asking them to take them for adoption. That was awhile ago.
After the triplets were neutered, BRISTOL's brothers were adopted together the next day .
So BRISTOL moved to Last Hope along with 3 kittens born in the same Wyandanch yard at the same time.They all know each other .
BRISTOL is ready for a FOREVER HOME.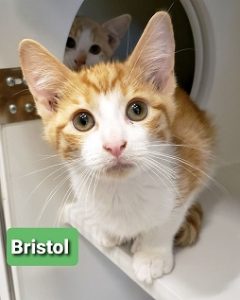 If you are familiar with the Golden Oldies of the 1960s, BRISTOL wants to " Bristol Stomp" and entertain a loving family with his polydactyl prance.
To meet BRISTOL by appointment, please first complete & submit an online cat adoption application found on the Last Hope website homepage.
I've found my forever home! Thank you!