BOUNCER is a Bubbly Beagle Boy.

This Kentucky shelter refugee loves everyone he meets. His tail bobs back & forth a million miles per minute.
Yesterday kindergarten kids stopped at his kennel, and BOUNCER couldn't be happier to meet them.
Our Beagle Boy is about 8 years old. We want BOUNCER to find a home that will more than make up for the love & care he has missed out on before moving to Last Hope.
Last Hope is his Beagle Halfway House.. Hopefully, soon BOUNCER will find his meant-to-be person or meant-to-be family.
YOU can make that happen for BOUNCER.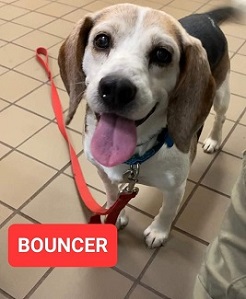 I've found my forever home! Thank you!