Pretty BROOKLYN is 3 years old. She was recently rescued from a tree for a TNR clinic, but turned out to be tooooo friendly to be put back outside to fend for herself.
BROOKLYN exudes Brooklyn- with a whiff of Nathans, the speed of the Cyclone, the beat of Saturday Night Fever and the amazement of the Verrazano.
This pretty girl doesn't care if you live in her borough. She has her heart set on finding a loving home.
Meet BROOKLYN at Last Hope Cat Center in Wantagh.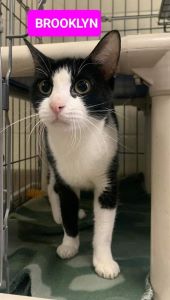 Come visit me at the Adoption Center in Wantagh, New York.
[contact-form-7 id="18343" title="mfmchugh"]