COWBOY doesn't have a horse, hat or harmonica….but this doesn't bother him.
He lacks a Home, Home on the Range, and that upsets him greatly. He wants to belong & to be loved.
When he was 3 months old, COWBOY was rescued off a Roosevelt street overrun with adult cats & taken in by Last Hope.
COWBOY is 4 months old now, and purrs when you pet him.
For now, he is bunking at Last Hope in Wantagh, but he's hoping to leave soon for a permanent homestead.
Please help COWBOY find his loving Home, Home on the Range.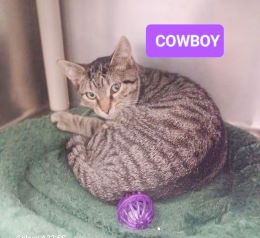 Come visit me at the Adoption Center in Wantagh, New York.
[contact-form-7 id="18343" title="mfmchugh"]