BROOKLYN's Name is a Conundrum
How did a female Husky found as a stray in Texas wind up with the name of the Coney Island borough?
Furgetaboutit! Let's move on…
BROOKLYN is a petite Husky about 5 yr old . Her shelter caretakers said the following about BROOKLYN when they asked us to take her:
"This complete love of a dog has the sweetest eyes you can imagine – hope you can see them in the picture.
She was found as a stray out and about on her own and she is such a gentle soul. A wonderful dog. Please, won't you help save her? "
Please won't YOU ADOPT HER!
We are not sure what time the Texas transport is arriving tomorrow at our door.
To meet BROOKLYN by appointment at Last Hope in Wantagh during the week, please complete and submit a dog adoption application found on the Last Hope website homepage.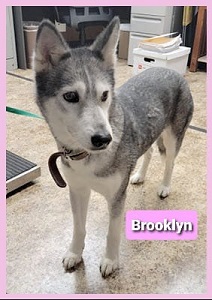 I've found my forever home! Thank you!