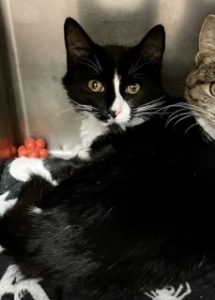 Don't Let the Opportunity of Adopting BUTTERFINGER SlIp Away From YOU.
This pretty tuxedo kitten is 6 months old & purrsonality plus.
She belongs to our "candy bar" litter of sweet kittens. They were found in a trucking garage and were socialized quickly & completely by their rescuer.
BUTTERFINGER will fill your cat cravings without adding any calories. Meet her today at Last Hope Cat Center in Wantagh.
If you are interested in learning more about her, please send us an email to lasthopeadoptions@gmail.com or fill out an application from our website.
I've found my forever home! Thank you!