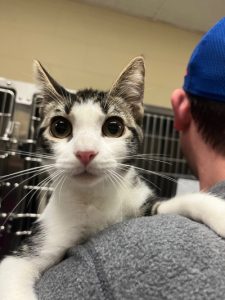 SHHHH! Please Don't Tell FROGGY Yet, but STYMIE his Brother & Cagemate is Approved for Adoption, Leaving this Cute L'il Rascal All Alone. FROGGY already has teardrop eyeliner. This purrfecto 3 month old tabby was rescued from a Dominos Pizza parking lot in Rocky Point with his 4 littermates at 9 weeks old. Hold the anchovies! Does it get any sadder that he will now be alone at Last Hope in Wantagh? Don't think so. Please scoop this L'il Rascal before he starts to weep. He will entertain you with his escapades.
If you are interested in learning more about them, please send us an email to lasthopeadoptions@gmail.com or fill out an application from our website.
I've found my forever home! Thank you!