CADBURY is the Cutest, and He Deserves the Sweetest Life.
At 12 weeks old, CADBURY was one of 4 kittens found in a Freeport house about to be demolished. Whew!
This adorable, longhaired tabby is now 3 months old and is waiting at Last Hope Cat Adoption Center for a home where everyone will be devoted to him.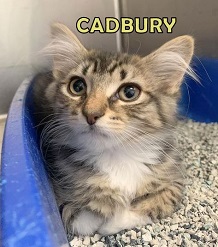 I've found my forever home! Thank you!