LUCKY wants to be like his Name.
So far LUCKY has had no luck finding a Home of his Own.
This Kentucky Kid is only 1 year old. He is very playful, and would be best with kids 10 or older because he jumps & has lots of energy. He has a slim build like a Galgo which is a hunting hound seen in Spain or Portugal. (But he isn't a Galgo.)
LUCKY likes other dogs, and is quite affectionate with people. He plays well with Last Hope Lab mix KIMBER.
Actually, YOU would be the Lucky one if YOU were to adopt LUCKY.
Meet LUCKY at Last Hope Dog Center in Wantagh. He will be glad to see YOU.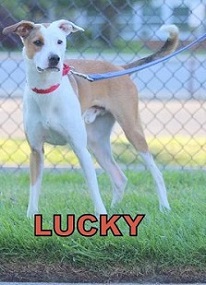 I've found my forever home! Thank you!