Calling for a Foster-to-Adopt Home for CALLIE?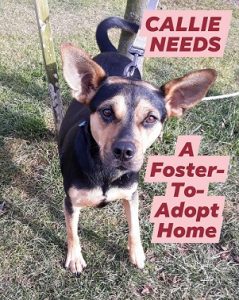 CALLIE is the sweetest, small Shepherd mix-about 35 pounds- found wandering around Texas with her Aussie/Shepherd mix puppy COLTON.
Mom & son came to Last Hope on a Texas rescue transport in November That's when we tested CALLIE & learned she is heartworm positive.
CALLIE is 2 years old, loves kids, good with other dogs & is at the midpoint of her heartworm treatment under Last Hope's care. Look at those adorable rabbit ears.
She needs a foster or foster-to -adopt home where she can finish her recovery in a quiet setting after her last immiticide injections to rid her of heartworm.
Last Hope pays all CALLIE's veterinary expenses until she tests heartworm free.
This Dog is a LOVE.
To meet CALLIE by appointment at Last Hope in Wantagh, please complete & submit a dog adoption application found on the Last Hope website homepage.
Come visit me at the Dog Adoption Center.
[contact-form 3 "Dog Adopt"]