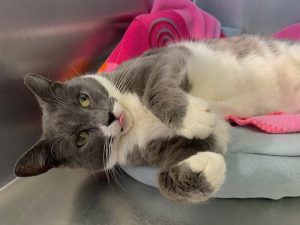 CHARLENE is charming, sweet & charming.
We wish she could speak so she can tell us how such a friendly cat turned up in a Farmingville cat colony, and tell us how long she was there.
CHARLENE is about 8 years old- was she dumped, lost, did her owner die or move away?
Was she on her own for months or years?
We will never know…but we do know CHARLENE has been rescued by a kind soul who realized she need not lead a feral existence.
CHARLENE is at Last Hope, her halfway house to a FOREVER HOME with someone who will embrace a mature & grateful cat.
To meet CHARLENE by appointment at Last Hope in Wantagh, please complete and submit a cat adoption application found on the Last Hope website homepage.
I've found my forever home! Thank you!